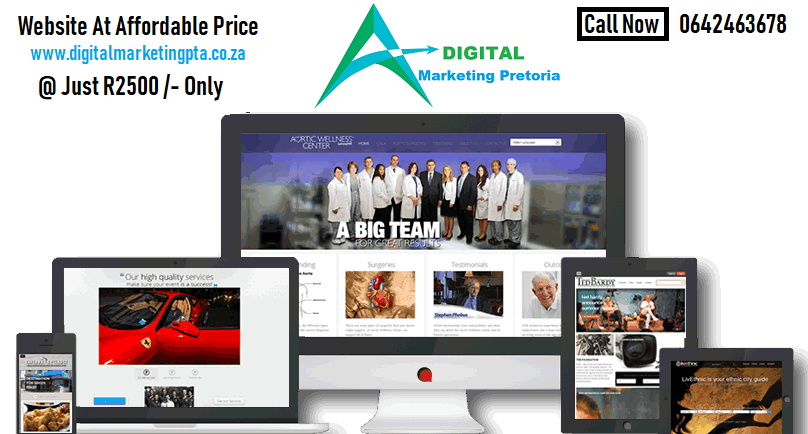 Freelance Website Design & Web Development Johannesburg Cell: 0642463678
Affordable Web Design (100% bespoke website design)
Hello and thank you for taking a look at our ad
My name is Ash i work for DigitalMarketingPTA a web design and development company based in Pretoria, Gauteng. We have been Established for over 17 years in overseas and last 3 years in South Africa.
We are one of South Africas finest and Professional web design agency. Not only are our rates cheap but our quality is of very high standard. Our designers are all within the South Africa hence the uniqueness of our designs. Our Clients vary from Co-operate giants to small local businesses. Give us a call today and talk to one of our friendly staff. Our motto is stunning Web design at affordable prices.
Our large team are specialists in the world of web development and therefore always provide unique and Digital Marketing PTA's signitured website.
With all our packages we will include:
– Custom made design (theme based)
– Free Logo Design
– 3 design revision
– Online website statistics (track visitor information, hits etc)
– Free email
– Free search engine optimisation / submission
We are the best company for you and our portfolio speaks for us.
So if you are looking for someone to do you a stunning job at affordable prices please call me on 0642463678
Any questions please email us
We will be looking forward to your response
Digital Marketing Pretoria
Midway Garden, Next to Midway Mews Shopping Center
Phone: 0642463678
info@digitalmarketingpta.co.za
http://www.digitalmarketingpta.co.za/website-design-company-in-johannesburg/